I realize that it is January, and for most, Christmas 2009 is already becoming a 'distant' memory for most. I read several of my Facebook friends' updates the day after Christmas announcing that they already had their Christmas tree down and all the decorations packed away. How sad that so many just want to "get Christmas over with" and move on. Well, here it is January 6th and my tree is still up, as are all the decorations. The majority of the unbelievable amounts of toys, games, and clothes that the girls received have been put away and closets have been overhauled and reorganized. The leftover Christmas cookies and goodies have been thrown out. My wrapping paper and bows are neatly boxed up for next year, but still, I am in no hurry to be done with Christmas.

For many reasons I like to let Christmas linger. It is absolutely my favorite time of the year. I love the magical feel of the holiday season. Where hearts seems lighter and merry and children seem about to bubble over with anticipation. I love Christmas shopping, Christmas carols, baking Christmas cookies, reading Christmas stories, building Christmas traditions, and teaching my girls the true meaning of Christmas.

Which is the second reason why I am in no hurry to pack Christmas away and be done with it. I was raised Catholic and for our family Christmas didn't end until Epiphany which is the day that the wise men first visited Jesus. (Which is also where the "twelve days" of Christmas originated from- the twelve days between Christmas and Epiphany- just a little Christmas trivia for you:) We celebrate the Epiphany Mass on January 6th or a Sunday close to it. My mom always left at least our nativity scene up until after Epiphany.

This Christmas our hearts and home overflowed with joy and we made so many precious memories that I don't want to forget. The rest of this post is an attempt to journal those memories so that when this Christmas does seem like a distant memory I can read my journal and help my heart find Christmas.

This Christmas was very different because of the great Christmas of 2009 Blizzard that rolled into town on Christmas Eve afternoon and changed travel plans for many people! This was the first Christmas in many, many years that we were not able to join my parents and my brother for Christmas Eve dinner. When I called my mom around two o'clock on Christmas Even afternoon to let her know that the roads were getting so bad that we didn't think we could make it over to their house and back safely, my heart just sank. As I said good-bye and "Merry Christmas" to my mom, a huge lump formed in my throat and my voice cracked. As soon as I hung up I sat on my bed and watched the snow blowing and swirling outside my window, though my tear filled eyes. And then the tears started to fall. . . I am a big girl, and I have my own family now, but I still love the traditions of my childhood, and couldn't imagine not spending Christmas with my parents and family.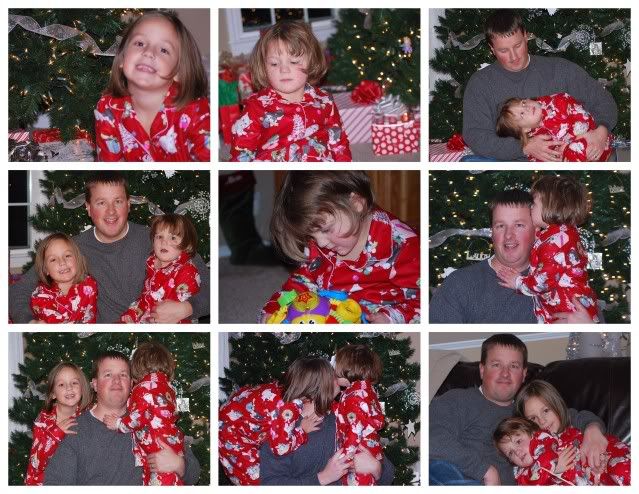 But we did spend Christmas Eve alone and managed to have a wonderful time. Kaylen and I baked and decorated sugar cookies while listening to Christmas music. I let Kaylen do the majority of the decorating and so our cookies were heavily frosted, sugared and sprinkled. . . but Santa loved them! After dinner I let the girls open one present, their Christmas jammies. This year I chose flannel Nick and Nora jammies with vintage kitties playing with presents and ribbon! They were so adorable! We put Avery to bed and then went downstairs to watch A Christmas Story. Kaylen had never seen this movie and I'm not sure she truly loved it, but she did giggle at the leg lamp:)

On Christmas morning Kaylen was up at six, but we managed to hold her off for thirty minutes or so before we got up to open gifts. Avery slept until almost seven, and we started without her:) We thought she might sleep even later and Kaylen would have burst with excitement! Miss Avery doesn't really 'get' Christmas and we opened all her gifts for her. She was excited about the first present she opened and we probably could have just given her the one gift and she would have been happy!

Kaylen really made a hall this year! She got a new bike, a Wii, a daybed for her American Girl dolls and many, many other goodies! Avery was really excited about her Elmo microwave!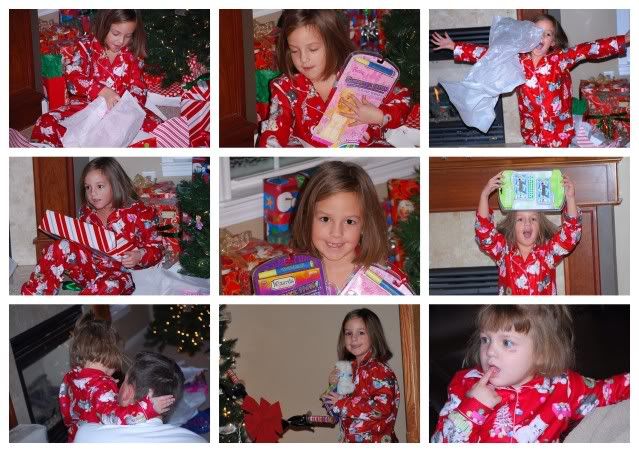 We spent Christmas day snuggled in as a family. We watched movies, played games on the Wii, and ate all the goodies we had stocked up on! We finally made it to my parents to celebrate with my brothers, newphew, and aunt the day after Christmas. My youngest niece called just as we were sitting down to lunch to announce that she was engaged!

The wintery scene outside our window as the sun came up Christmas morning, notice the snow in the bottom corner. . . love it!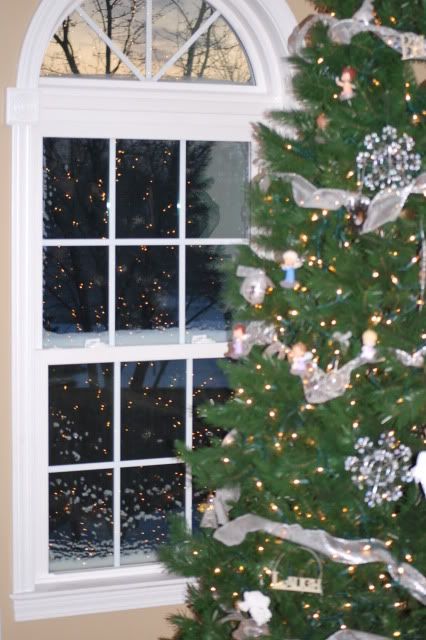 When my heart finds this Christmas in my memory I will think of the sweet, sweet memories of being "snowed in" with my girls and their daddy. I will think of Kaylen's pure joy on Christmas morning when she saw all the goodies Santa tucked under the tree. I will think of the beautiful winter scene outside our window that kept us from celebrating Christmas in line with our traditions, but kept us home, celebrating Christmas together. And when my heart finds this Christmas, it will bring a smile to my face and joy to my heart!