Am I the only one who has extremely pickey kiddos when it comes to mealtime? I'm guessing not. Avery- well let's not even go there. Miss Avery likes what she likes, and that's not much. And big sis, Kaylen is just about as bad. She is getting better at trying new foods, but not without considerable urging on our part. So when this cook book caught my eye, I was excited to give it a try.

Even though I've only had a chance to make a few of the yummy recipes inside, so far it has not dissappointed.




Tonight we tried Hot Ham and Cheese Turnovers. They were super easy and healthy too! They took less than thirty minutes from start to finish and include meat, dairy, vegetables, and grains! Woo hoo! Four food groups in one delish little sandwich!

Here's the recipe:

1 1/2 cups chopped cooked ham or turkey breast (I cheated and bought the pre-diced ham in a package)
1 cup small broccolli florets (I chopped ours up in pretty small pieces)
3/4 cups shredded cheddar cheese
1 10 oz. package of refrigerated pizza dough
1 tablespoon milk
(I also added one tbsp of light ranch dressing for extra flavor)

1. For filling, mix ham, broccoli, cheese, and ranch dressing in a medium bowl. Toss to mix.

2. Line a baking sheet with foil; lightly grease. Set aside.

3. On a lightly floured surface unroll pizza dough. Roll dough into a 12-inch square. Using a sharp knife (I used a pizza roller) cut into nine 4-inch squares. Spoon about 1/3 cup filling onto each square. Fold dough over filling. Press edges of dough together with fork to seal. Use the fork to prick holes in the top of each turnover to allow steam to escape. (Oops! I forgot to do this, but they turned out o.k.:) Place turnovers on baking sheet. Brush with milk. (Yeah, didn't do that either. . . )

4. Bake at 400 degrees for 13-15 minutes or until golden. Serve warm.

Nutrition facts per turnover:
141 calories
6 g fat
1 g fiber
8 g protein

I have been thinking a lot lately about how Britton's and my eating habits have such a huge impact on our girls. I want Kaylen (and Avery too. . .) to grow up eating a variety of foods, and eating to nourish her body, not because she's bored, sad, lonely or just in the mood for some McD's! I know that I need to change some of the bad eating habits I've formed in the last few stressful years, and when I think about how much I want for my girls to be healthy, I know that I need to set a better example.

So. The verdict is in!

Kaylee loved them! Broccoli and all. . .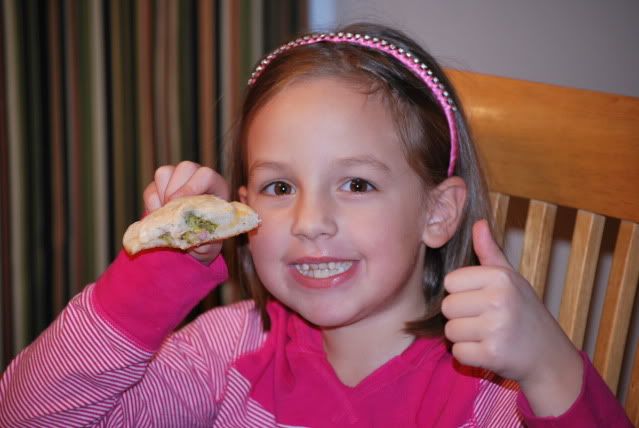 Later this week we are going to try Smashed Potato Chicken Potpie! The recipe sounds scrumptious and the nutrition facts and daily values are great! Unlike the frozen store bought version of pot-pies! Have you ever read the label of one of those!? They should come with a warning! "Warning! Soooo not good for you!"

Here's to healthy eating in 2010!!

*Kaylen wants to be called "Kaylee"- go figure? We haven't decided if you spell that "Kaylee" or "Kayley"??