From the time Kaylen was a toddler, she has always been blessed with bunches of neighborhood playmates. For the first five years of her life we lived on Summertree Court in Olathe. There were no less than a dozen little ones Kaylen's age and younger at any given time. Then slowly but surely, the other families started to move away. On to their bigger and better second homes:) By the time that we put our house up for sale, there was really only one little guy left that Kaylen played with. He was nearly two years younger than Kaylen, and they didn't have much in common, but it was better than having no one at all!

So when we moved here, I prayed and prayed for our new neighborhood to be filled once again with lots of little kids close in age to Kaylen. God answered this prayer abundantly! In just three houses on our street (well really the cul de sac that our house backs up to) there are six little ones and five of them are girls!! From the first few nights in our new home, Kaylen has been glued to the hips of these sweet girls.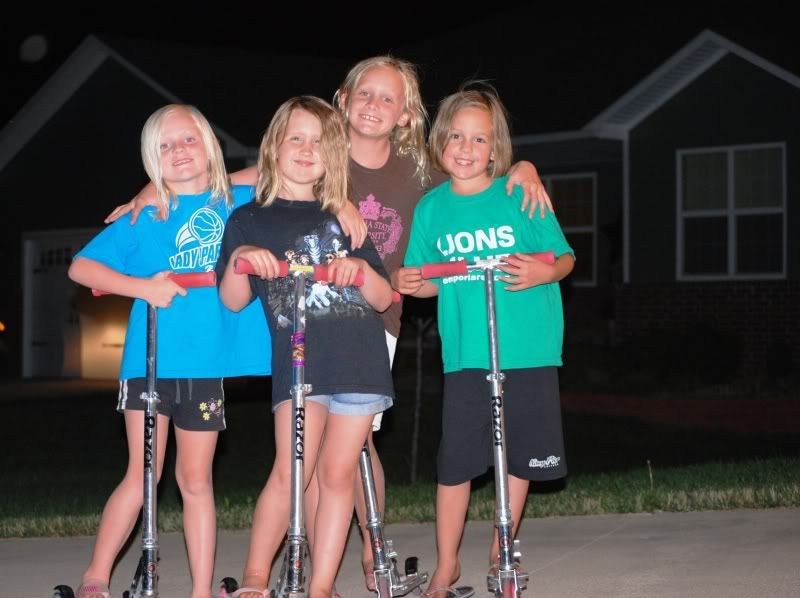 Kaylen is rarely ever without a friend to play with! They bounce from house to house and during the summer sometimes spend entire days together. Last night I had to go outside at 9:30 to drag Kaylen in and I found them like this, having scooter races on the driveway. I absolutely love, love that Kaylen is growing up in a community where she is surrounded by playmates. That they are able to run and play, ride bikes and scooters, jump on the trampoline, and swing on the swing set well into the night and they are safe. They are safe and happy and carefree and getting to grow up together.

What a blessing for our sweet girl and her friends!